Toyohashi University of Technology accelerates its English program in partnership with The City University of New York, Queens College
Post date:29/Jan/2016
The City University of New York, Queens College (QC) was founded in 1937, and its English Language Institute (ELI) was later established in 1954. ELI is the second oldest English language school in the United States and boasts more than 60 years of history. It is one of the top language schools at university level for non-native students. QC currently has more than 35,000 students from 47 different nations.
In 2013, Toyohashi University of Technology (TUT) and QC signed an agreement in which both agreed to develop a cooperative relationship, including student/researcher exchange programs.
As part of the Top Global University Project, a new Global Technology Architects Course (GAC) was initiated in the TUT. For GAC students, special programs will be carried out in partnership with QC to improve student English ability. It is a unique program that combines remote interactive lectures from the New York campus and an intensive course taught in Japan by faculty members from QC. The program will start from April 2016.
In addition, since last year, TUT started a system whereby faculty members and university staff are dispatched to QC for medium- and long-term training in order to improve their English ability. This is part of a program that promotes multinational human resource development and international integration across our campus.
To foster the two universities' cooperation and development, on January 18, 2016, six visitors from QC, including President Felix V. Matos Rodriguez and Vice President Elizabeth Hendrey, were invited to the TUT campus where the university hosted an event to exchange ideas about furthering academic collaboration.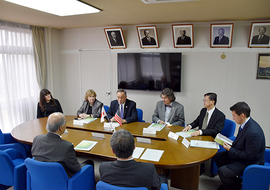 ---