The 4th Global House General Meeting
Post date:18/Mar/2021
The Global House Student Committee (GHSC) held the 4th Global House General Meeting.
The purpose of this meeting is to review the lives and activities in Global House, and residents discuss what to challenge next year. This Global House General Meeting was first organized by voluntary students by GAC's first generation to deepen their learning at Global House.
This year was the 4th of what is now an annual event.
Below is the agenda:
Opening

Global House Living & Learning Program Questionnaire review

Accounting report of Global House Activity Fee

Reviewing Activities in Global House / Activity Report from GH TEAMs

Groupwork "What TEAM to assemble for 2021"

Group presentation and awards

General information

Comments
In the group work session, students made presentations about "What TEAM to assemble for 2021". There were ideas such as TEAM Challenge, which challenges to create new things, TEAM Easter to celebrate Easter, TEAM Photos to share beautiful scenes of Toyohashi, and TEAM Tasting which experience various food from all over the world. Students also explained what they could learn from those TEAM activities. The presentation was judged by the participants from the point of view that what they could learn suits the philosophy of GAC. Then they voted for each other's presentations. TEAM Photo won by a hair.
The meeting was a big success, and every participant reflected and reviewed their activities and motivated themselves for coming new academic year.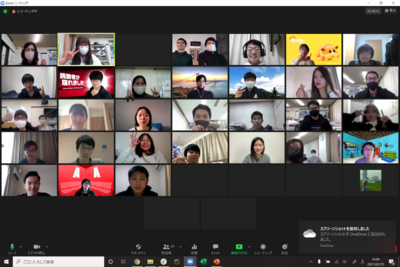 ---