Student Voice for "TUT Global House's BBQ party"
Post date:20/Oct/2017
Students living in TUT Global House organised a barbecue party on September 28. Everyone enjoyed eating and talking and had a great time.
Here are comments from students who organised and participated in the BBQ:
【Students' voice】
■Mr. Hishig-Ochir
"Hello, my name is Hishgee and I am the undergraduate student of Electrical and Electronic information engineering department. I transferred to TUT in April of this year and since then I am living in TUT Global House, which was newly built in 2017.
Last week we had a great barbecue party at our school. As a Mongolian student which means meat lover, it was a great event for me. The food and drinks were so good. Also, we had a great chance to talk and communicate each other not only students, but also the teachers, housemaster, and staff from the international affairs division. Because during the school days we are so busy that getting close to each other was difficult. I have got known a lot of people's names and made new friends.
My impression is, this kind of events were so needed and doing a barbecue in summertime was a great idea!"
■Mr. Ryoya Tominaga
『GAC学部3年の富永です。今回のバーベキューで幹事をつとめました。
今回のバーベキューは、学期中は授業や課題でとても忙しく、TUTグローバルハウスの学生の中でなかなか交流がなかったことから企画しました。日頃は近いユニット同士で接することは多いのですが、階が違う学生同士の交流はほとんどありませんでした。
バーベキューでは準備から片付けまでたくさんの学生に協力していていただき、楽しくスムーズに開催することができました。 また、私自身もこのバーベキューを通して、始めて名前を知り、仲良くなった学生もいました。
このような機会にTUTグローバルハウスの学生同士の仲間意識を高め、日頃のモヤモヤや将来について話すことができる友人が互いに増えることを期待しています。これからも英語関連含めてイベントを企画しようと思います。』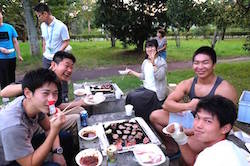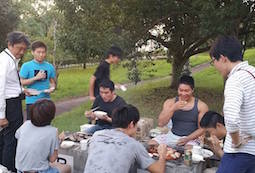 ---