Interview: GAC 1st year international student | Chinatsu Kawakami
Post date:17/Mar/2021
Contributing to society through the development of medical devices
Chinatsu Kawakami
Integrated Biosensor/MEMS/group, Electrical and Electronic Information Engineering
(Scheduled to Graduate in March 2021)
Diving into different cultures on your own with the dream of working on the global stage
From the time she was a student at KOSEN (National Institute of Technology), Chinatsu Kawakami wanted to have a job that contributed to society in the future. She dreamed of using her knowledge of mechanical and information systems to work on the development of medical devices that would help with the early diagnosis of disease, the prevention of infections, and so on. "I've personally been taken care of in hospital, so I want to help people suffering from disease or injury, in part as repayment for that. I was surprised when I found out that in developing countries many people die from diseases they would have been saved from in Japan. If developing countries had access to cheap, compact and user-friendly medical devices, it would eliminate some of the disparity in healthcare. That's why I sought advice from a teacher at KOSEN (National Institute of Technology) and decided to study Micro Electro Mechanical Systems (MEMS) at Toyohashi University of Technology," says Chinatsu.
Additionally, to become an engineer who can operate on the world stage, including in developing countries, she selected the Global Technology Architects Course (GAC). Chinatsu enrolled in the inaugural class of GAC and experienced living at Global House. "There were five of us living together in one unit, two Japanese including myself, two foreign students from Malaysia, and one from Vietnam. I'd studied in advance about some of the cultural differences. For example, the Malaysian students are Muslim and can only eat Halal foods. But one time, I made the huge mistake of accidentally using their pot to cook. I immediately went out and bought a new one and apologized, but I had hurt their feelings and I had to seriously reflect on my lack of awareness."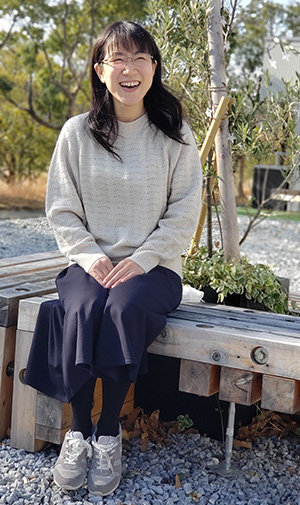 On the other hand, living together made it a great opportunity for the foreign students to learn Japanese, and the Japanese students to learn English. The friendships she formed through that communication will become a valuable asset when she is active on the global stage in the future, explains Chinatsu. "However, the foreign students were really fluent in Japanese so I tended to speak to them in Japanese. To address this, for five months from January of my fourth year of studies to June of the first year of my Master's course, I studied abroad at KAIST in South Korea, in order to put myself into an environment where I only spoke English. To be honest, I was quite anxious about going to South Korea amid the strained relations between Japan and South Korea over issues such as conscripted workers. But seeing the country from the outside is vastly different from the inside, and everyone was really friendly. At first it was tough for me to speak with my poor English, and I spent every day looking at a PC monitor or through a microscope, but I pulled myself together and from the second month onward I started to initiate conversations with people and gradually each day become more enjoyable. I have fond memories of going to a K-Pop concert with my Dutch roommate and her friends in between research responsibilities," recounts Chinatsu.
Striving to develop medical devices beneficial to people's health
At KOSEN (National Institute of Technology), Chinatsu's major was actually mechanical control and information system engineering, and as she switched her major to electronics and electricity when transferring, it was quite tough at first.
"When I was in my third year of studies, I was under pressure with classes and turning in assignments, and there were times I spent all day in the library and wondered if I could even get three hours of sleep a night. When I became a fourth year I became busy with research, and it was a shame that I couldn't spent much time at Global House," she says.
However, her efforts were rewarded, and in research into hydrogen ion image sensors, she developed a method for fabricating a structure that inhibits ion diffusion, which had been causing problems, and successfully achieved high-definition imaging. She also worked on the fabrication of a device that performs high-definition imaging of multiple neurotransmitters. Additionally, at KAIST where she studied abroad, Chinatsu conducted research into cutting-edge optogenetics. Optogenetics is a technique to control the functioning of cells using light. Chinatsu fabricated the μ-size LED probe required for this technique using a 3D printer, achieving results in the short time of just five months.
In March 2021, Chinatsu will complete her master's degree and start working at Shimadzu Corporation from April.
"Shimadzu is a manufacturer that deals with analysis equipment and medical devices, and it is also a company that has expanded overseas, which brings me one step closer to my dream. I am particularly interested in developing equipment for the very-early diagnosis of Alzheimer's disease. I actually used to live at home with my grandmother who required nursing care, and also worked part time at a special nursing home for the elderly. Through these experiences, I realized that a long and healthy life is essential for living with dignity. By developing things like medical devices, I want to contribute to the health of as many people as possible."
(Interview / Text: Madoka Tainaka)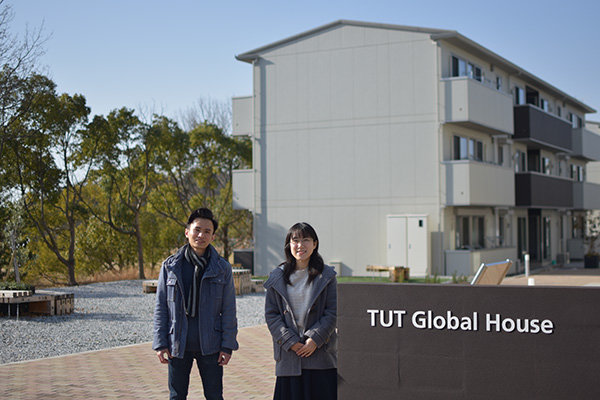 ---