The Memorandum of Understanding was signed on 13th November 2015 in Uzbekistan at the Japan Rector's conference held in Tashkent
Post date:26/Nov/2015
Tashkent State Technical University (TSTU) was established in 1929 in Uzbekistan, and is one of largest universities for technology in Central Asia.
When Prime Minister Abe visited Uzbekistan on 24-26th October 2015, he welcomed Uzbekistan's suggestion to establish an Uzbekistan-Japan Youth Center for Innovation in TSTU.
Between 2004 and 2008 Toyohashi Tech accepted 12 international students from Uzbekistan. Currently there is one student from TSTU enrolled in our doctoral program.
Delegates from TSTU visited Toyohashi Tech on 9th September 2015,and both parties agreed to start discussions toward possible future collaboration.
The Memorandum of Understanding to start this process was signed on 13th November 2015 in Uzbekistan at the Japan Rector's conference held in Tashkent.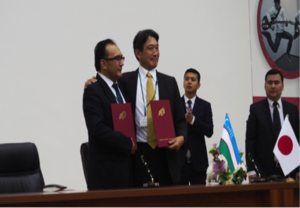 ---