Experience as a PLAY TRUE Creator | IMAI Hironosuke
Post date:15/Dec/2021
Interview
IMAI Hironosuke, Global Technology Architects Course, Applied Chemistry and Life Science 3rd year (a graduate from Osaka Prefecture University College of Technology), who worked as a student staff (a Play True Creator) in the Japan Anti-Doping Agency (JADA) booth during Tokyo 2020 Olympics.
What is a "Value of Sports"?
 "At first, I simply wished to get involved in the Tokyo Olympics and Paralympics (Tokyo 2020 Olympics)," Hironosuke said. While researching it, he found that the Japan Anti-Doping Agency (JADA) was organizing an activity to convey the value of sports and decided to apply to be a Play True Creator, the title of the student staff member that JADA was recruiting. Though the Tokyo 2020 Olympics were threatened by the COVID-19 pandemic, he never changed his mind about participating as a staff member and stayed focused by joining preliminary Zoom training events, etc.
 Once it was decided to hold the Games, Hironosuke was appointed to be one of approximately 40 student staff working at the Play True Planet: Sports & Art Booth to Create the Future of Sports organized by JADA at the 2020 Fan Arena (Tokyo Waterfront City) during the Games, and performed activities to discuss and share the value of sports together with the people visiting the booth while staying at a hotel in Tokyo from August 26 to September 2.
 Hironosuke's role was to help visitors to the booth to think about, identify and deepen their understanding of the value of sports and to share the value of sports with each of them using smartphones and other means. While taking photos and conversing with the staff members, the exhibits and the quiz in the booth helped visitors find value in things such as work, tests, and smiles in a fun way.
 The value of sports that Hironosuke identified for himself through these activities was the power to connect people. This did not change throughout his participation in the activity. When he was a child, he had made a lot of friends and acquaintances through sport, including baseball and swimming. In this activity, he was connected to people he would never have met without this opportunity, such as Olympians and Paralympians, student staff members, and the many visitors to the booth. This was very valuable to him, Hironosuke said.
 Though Hironosuke had opportunities to get involved in manufacturing and engineering-related events when he was in the Osaka Prefecture University College of Technology and Toyohashi University of Technology, he had not much experimented with new fields outside his field of specialization. It seems that participation in this activity has become a valuable experience for Hironosuke, significantly broadening his perspective and human network. He told us in the end he was very pleased that he was involved in the event as a Play True Creator.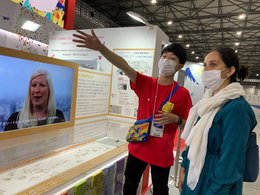 Hironosuke explaining the exhibits to a visitor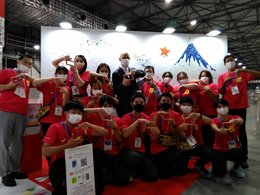 Hironosuke and the other student staff members with Dr. MUROFUSHI Koji, the Commissioner of the Japan Sports Agency, and athletes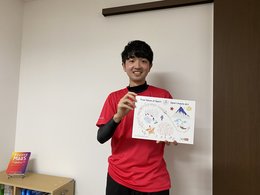 Holding an artwork expressing the value of sports
Photo by Japan Anti-Doping Agency
---