Global Technology Architects
In society where globalization is rapidly spreading, leading engineers are expected to tackle challenging issues with innovative ideas.
Backed by scientific knowledge and technical capabilities, human resources who can understand the diversity of the global community, and are capable of taking on challenges alongside people of different cultures and values are Global Technology Architects. They also have the technical and personal skills to address such problems, from envisioning an idea all the way through to providing and facilitating a practical solution.
Global communication capability: Ability to understand and express oneself amidst diverse value sets with superior language skills and open-mindedness toward different cultures
Problem solving skills under diverse value sets: The ability to grasp problems and analyze them as well as coming up with ideas and creating solutions backed by scientific knowledge and superior technical capabilities
Interpersonal skills applicable globally: Up to date cultural awareness, a willingness to take on challenges, plus a leadership ability tempered by a flexible and tolerant spirit of cooperation
Human resources described above are named 'Global Technology Architects' at Toyohashi University of Technology and we aim to create such engineers through this 'Top Global University Project'.
Global Technology Architects
Engineers and researchers with the capability of applying advanced technological skills and scientific training to tackle global issues, and the leadership skills and vision to getting the job done in the real world of industry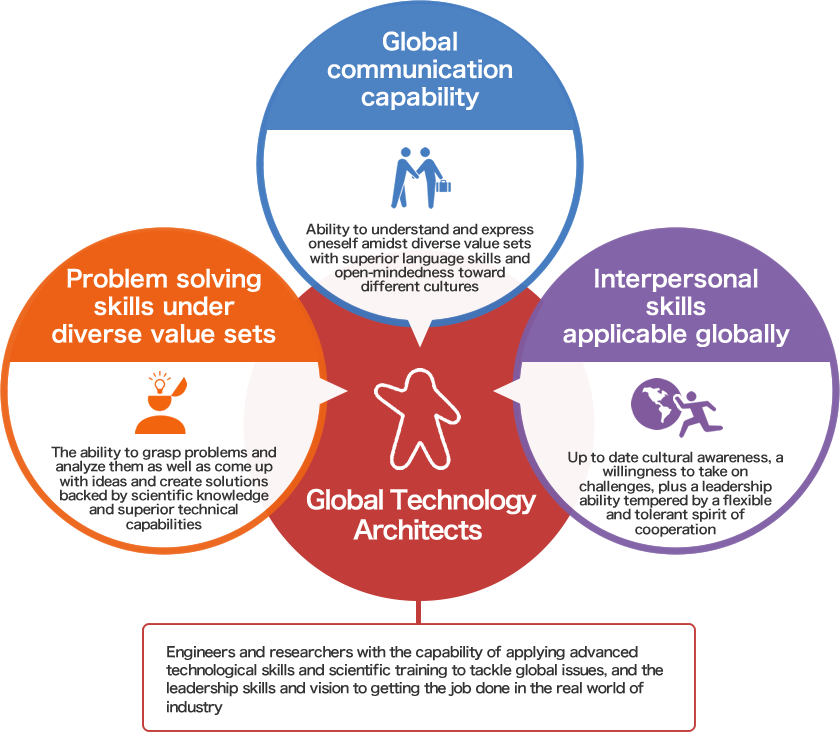 Last Updated:10/9/2018