University Staff
TUT will continuously implement human resources exchanges between overseas partner universities. Our university staff will be dispatched and we accept staff from partner universities; and they will conduct their work at respective divisions in cooperation with the local staff. Human resources exchanges will be applied not only to the international affairs division but also to the entire administrative organization. By doing so, we will strengthen their language skill and international compatibility for the whole administrative organization.
New staff for this project will be recruited based on their language skill, but their overseas education/work experience will be considered to be of importance.
We are planning to recruit excellent human resources regardless of their nationalities and overseas degree holder will also be considered.
Additionally, international students who have graduated from our university will have an opportunity to work as a staff at TUT.
With the implementation described above, the aim of the percentage of foreign staff will be to be more than 7% in 2023. Also, the aim of the ratio of staff with overseas working experience will be more than 30% of the entire staff in 2023.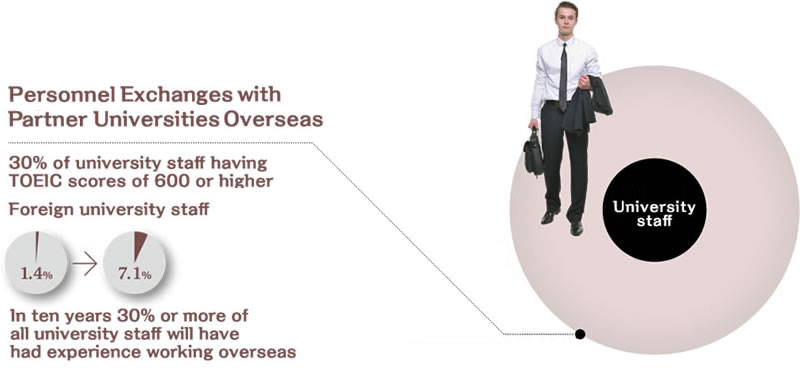 Last Updated:29/5/2015